Chiang Rai Travel Guide
Chiang Rai "The City of Arts and Historical"
Chiang Rai is another popular tourism province in northern Thailand, being full with nice atmosphere and surroundings. It is very easy to travel to. Just grab a plane ticket for about 800-1,000 Baht, not too expensive. Also, the travel time is not over 1 hour, if you start your trip from Bangkok the capital. Don't worry about getting exhausted.
Historically, Chiang Rai's story is quite similar to Chiang Mai's, as they both were parts of Lanna Kingdom. Chiang Rai, in the past, used to be the homeland of Tai Yuan people, an ancient Thai ethnic group.  On top of that, it  was also the location of Ngoenyang Kingdom in around 7th to 13rd centuries, just before the period of Lanna Kingdom.
Geographical Information 
Nowadays, Chiang Rai consists of total 18 counties. Its border is located between Thailand, Myanmar and Laos, which is known as 'The Land of Golden Triangle'.
Chiang Rai is about 11,678 square kilometred wide. Its landscape is mostly plateau, especially in Mae-Sruai County, Wiang-Pa-Pao County and Chiangkhong County. Mountain areas in Chiang Rai can be at 1,500-2,000 metred height above the sea level. Anyway, the highest peak of the province is Doi Lanka Luang, with 2,031 metred height.
About the climate, 24 Degree Celcius is the average temperature of Chiang Rai. This is quite cold, of course. Be sure to dress with thick costumes. This is almost the same number that appears on your air conditioner remote control. So, if you hate cold, you may consider going to Chiang Rai during February to the middle of May, because it is summer and the temperature will be at about 32 Degree Celcius. Try to avoid traveling during the end of May to the middle of October, if you don't want your holiday to be ruined with heavy rain.
Transportation in Chiang Rai
Although a fairly remote province, Chiang Rai is fairly well connected to the rest of Thailand and can be reached via private car, public bus, or airplane. However, it is also possible to take a train or plane to nearby Chiang Mai an then a three hour bus ride to Chiang Rai. Once there, it may be easier to get around with your own car, but there are standard forms of local transport available for visitors
Chiang Rai Ariport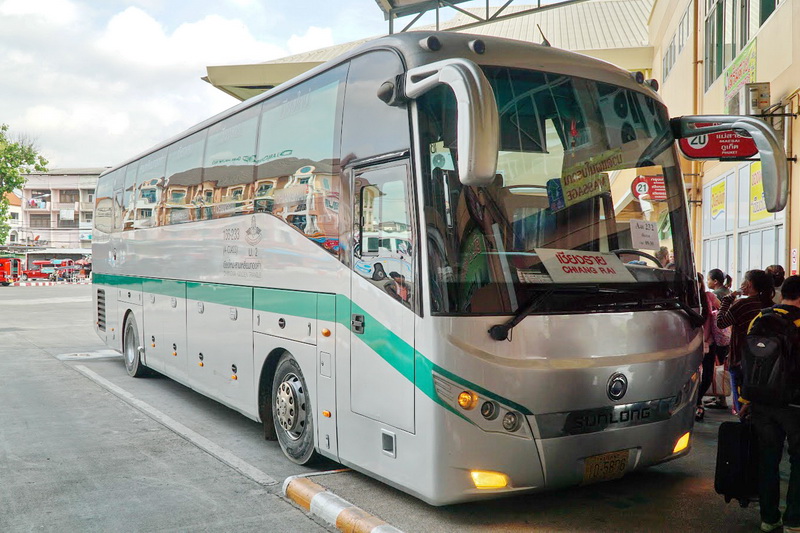 Bus Station

Public Transport

Tourism Information
As one of the main tourism town, there are many tourist attractions in Chiang Rai. You won't want to miss even one.
Here are top places that you should go most.
Another landmark of Chiang Rai, whoever talk about Chiang Rai, they usually include Wat Rong Khoon in their sentences. This temple is very beautiful with its sparkling white color, just like the color of pearls.
Visiting the renowned Golden Triangle is a must to complete the trip to Chiang Rai province! This is the famous location where the borders of Thailand, Laos, and Myanmar meet in the middle of the Mekong River. The Golden Triangle was formerly known as the world's major producer of opium, which was later improved thanks to the works of the Royal Projects. Reaching the Golden Triangle where Thailand, Laos, and Myanmar join is easy as it's only 9 kilometers north of Chiang Saen, by taking the road parallel to the Mekong River.
It is decorated in temporary style by Tawal Dachanee. The place looks natural. It exhibits objects that provide you the knowledge of Lanna art and culture. You should go there and learn about the Chiang Rai in the past. All architectures are glorious and valuable.
This palace is decorated in Lanna-Swiss style by northern Thai craftmen. You will love going around, seeing colorful flowers and taking nice photos. The best time to go is during winter, because you will see light fog at the mountains around the palace, which looks so beautiful.
Also known as 'Boon Rawd Farm', it is one of the most popular tourists attractions in Chiang Rai. Singh Park is somewhat like a national park, with more than 12.8 millions-square metred area. This is a good place to go and learn about agricultural lifestyles. There you can see farmers growing various kinds of plants, for instances, tea, strawberries and lots more.
If you want to stand on a very very high mountaintop for once in your lifetime, then visit Phu Chee Fah. Its mountaintop is higher than the level of the clouds. You just go up there and look down, you will see the clouds floating and sticking to each other like sea water. It's a nice place for sightseeing.
This is the most popular tea garden of Chiang Rai. The products from Chouifong is gauranteed with leading high quality.
Here are the list of attraction in Chiang Mai.
Chiang Rai Activities
Where to eat
There are many good restaurants in Chiang Rai, of course. If you're the one who totally enjoy eating, here are some suggestions for you.
'Khanom Jean' is one of the most popular dish of Thai people. It is made of floor, appearing as long and white thin stripes. Regularly, it is served up with spicy curry or soup on the top. So delicious!
If you're interested in the dish, you can find it at 'Khanom Jean Pa-Suk' restaurant. It is located just in Muang County of Chiang Rai and opens daily, from 8:00-15:00.
This is one of the eldest restaurants in Chiang Rai. Be sure not to miss it! You can never complete your trip to anywhere without eating traditional foods of your destinations. This restaurant provides you various Thai foods with good taste! Feel free to go and relax in the middle of its natural, woody atmosphere.
Do you really want to go to northern Thailand and leave it without tasting the traditional foods first? No! Believe it, you don't want to do that. That is why you should visit this urban restaurant, because Phu-Lae Chiang Rai serves northern Thai traditional dishes. It is decorated in leisure and natural style. You can enjoy eating everyday from 11:00-23:00.
Do you know the famous Clock Tower, the outstanding landmark of Chiang Rai? That's right! This restaurant is located just nearby the Clock Tower. It serves clotted pig's blood soup as the main dish. The good taste, clean food and quality are all guaranteed. The ingredients used for cooking are definitely fresh, as the restaurant doesn't re-use same old materials. However, Saharos Chiang Rai doesn't opens for too many hours. You can go there only during 6:00-14:00, just for breakfast and lunch.
Another old restaurant of Chiang Rai, located just opposite Krungthong Hotel in Muang County. For those who love nice hot rice with curry or Thai dishes on top, mustn't miss this one. There are various menu that you can choose. Or if you don't like hot rice, you can order boiled rice instead. All of these are in high quality.
When it comes to our advice we're proud to say we're different. We offer something a little more special.