Doi Pui Hmong tribal village is a peaceful village in a beautiful location
Baan Doi Pui is Hmong Tribal village, located in Doi Suthep-Pui National Park.
This village is situated at the top of Doi Suthep. It is home of Hmong hill tribe , one of 6 major hill tribes in Thailand. This Hmong tribal village is a big village consists of museum , beautiful garden , houses and souvenir shops. A long history of the Hmong people was very interesting. Worth coming so far to visit.
There are two subgroups of Hmong in Thailand; the Blue Hmong and White Hmong. The Hmong or Meo Hill-tribes in Thailand crossed over the Mekong River from Laos. Hmong houses are built on the ground and in clusters, with several clusters forming a village. The oldest male controls the extended family household that will include married sons and their families. The Hmong are divided into clans, which play an important part in rituals and relationships. The Hmong believe in a number of household spirits as well as souls.
Formerly, Doi Pui Hmong Tribal village was cultivated opium. Originally, opium was cultivated on this land by a Hmong community which settled in Baan Pang Pa Ka village, Tambon Pong Yang, Amphur Mae Rim, Chiang Mai province. In 1953-1954, the Thai government sent soldiers to eradicate drugs in Pang Pa Ka village, and the community disintegrated. The villagers migrated to Baan Doi Pui.
In 1963, His majesty the King gave Thai nationality to the villagers and introduced them to lychee cultivation by offering 16 lychee trees for each household. As a result, the villagers stopped opium cultivation permanently in 1972.
There are lots of herbs and medicinal plants relating to the community's spiritual and super-natural beliefs; e.g., opium, poison, herbal medicines and "Paim Dev" (a local herb used to relieve headaches or fever).
Around this Hmong tribal village now is evergreen forest which evolve from generation two forests or Secondary forest. Formerly, the majority of the area had used for opium cultivation. Later on, the villagers have growing fruit instead of opium cultivation, and they try to conserve the forest area around. 35 years later, the Secondary forest is finally become and evergreen forest or first generation forest or Primary Forest.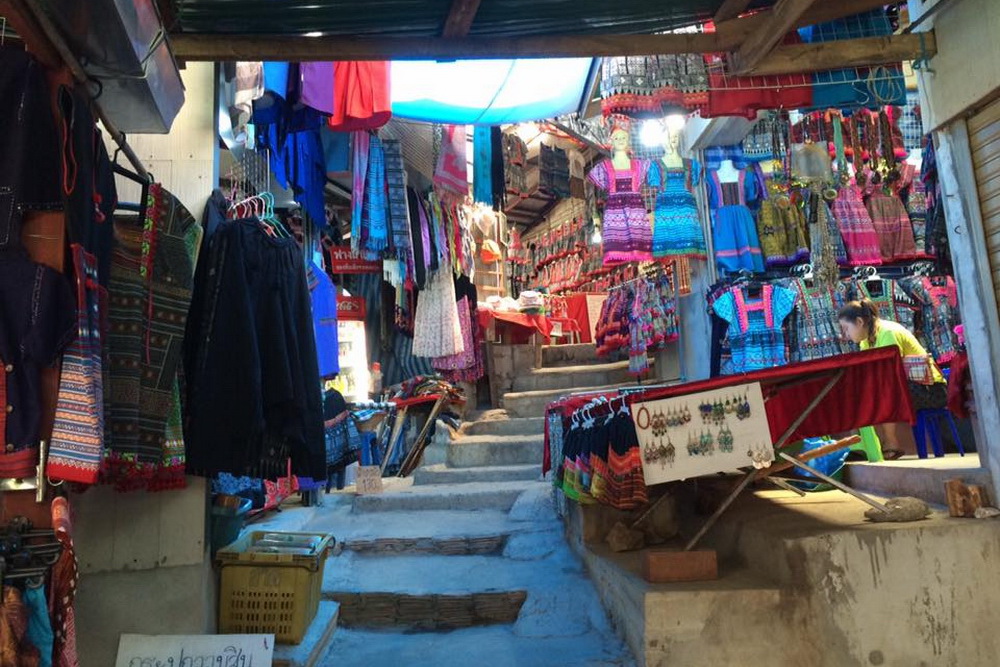 A lot of cars at the entrance to the village. Some unscrupulous drivers simply park their cars causing jam. The roads are clean. The village is spread over the side of the hill and the garden settings are lovely. The shops housing all there hand made goods follow a covered pathway up the hill too. They sell lots of clothing, bags,purses, hats,lots of giftware etc . The colours and designs are fabulous and terrific value for authentic products.
This is a village of the Hmong people. Some reviewers suggest it's just a 'tourist trap' with all the market stalls, but that's not really true. The daily market is a major part of the Hmongs income, and what's on sale is far better value than the same products at shops in towns/cities. What's more, the income from here goes straight into the villagers pockets. So by buying here, you're contributing to the community.
The tribal people of this village are trying to maintain their culture and they all wear their tribal clothes except when they are working when they only wear their tops.
People in the village are friendly and they do not seem to get angry when you asked and finally did not buy anything from them. Now, The Hmong is Thai citizen now and they speak good Thai. The waterfall has water worse than a small Rapids. The flowers are wonderful and beautiful.
There is a museum up the top which is interesting. If you are interested in learning about the livelihood of Thailand's ethnic hill-tribe, Doi Pui is one of the few places close to town to meet and chat with the Hmong ethnic hill-tribe as well as learn about their way of live from the living museum.
Hiring a children guide from the main square is useful, a student tourist guide is available to take you a good tour through their village.
However, beyond the museum is a garden that is a must see if you come to this village. The garden is well tended with beautiful flowers and a great view.
If you keeping walking to the end and pay the man 10 baht you can go into a really beautiful garden that has obviously taken a lot of work. Just before the garden you can even rent traditional clothing to have a photo shoot in the garden! It's a small place but very peaceful. Doi Pui Hmong tribal village actually has 2 gardens with 2 poppy plots; one above the village and the other below. Both charge 10 baht.
Doi Pui Hmong Hill Tribe Village is a piece of heaven. Do not miss it. walk in the village and meet the people. Go to museum and see the history. Go to the flowers and see the drags. Meet the girls and the women they are so beautiful and take pictures.
How To Get To Doi Pui Hmong tribal village
To get to Doi Suthep-Pui National Park from Chiang Mai, take route 1004 northwest. The entrance to the National Park is located about 15 km from the city centre and the drive to Doi Pui from the entrance takes about 40-50 minutes. Driving up to this village be aware that the road is steep,small and winding.
A number of tours are available to the Hmong Tribal Village and related destinations. However, if you want to get there alone, you will need to go to Wat Phra That Doi Suthep then carry on to Bhubing Palace, and then on to Doi Pui Hmong Village.
By local taxi or Red taxi from the foot hill of Doi Suthep mountain. You can pick one up from in front of the Chiang Mai Zoo (40THB/person) and in front of Wat Phra Singh (50 THB per person). However, they will only leave when the taxi is full so allow a bit of waiting time.
By car rent with drive from Chiang Mai City. Many Chiang Mai tour company or travel agent can arrange return transport via air-conditioned mini-bus
By renting the mountain bike or Motorbike.
By making tour from Chiang Mai to Doi Suthep temple and the other attraction nearby like Bhubing Palace (Royal winter Palace) and Doi Pui Hmong Tribal Village.
Nearby Places
Khun Chang Kian, is where Cherry Blossom or Sakura flower can be seen in Thailand, Baan Khun Chang Kian or known as Khun Chang Kian Highland Agriculture Research Center is very well-known among Thai people for where to see the Cherry Blossom during the cold season.. This Research Center is under operation of Agricultural Faculty of Chiang Mai University.
Bhubing Palace is the Royal family's winter residence during seasonal visits to the people in the North of Thailand and is also used as a royal guesthouse for state visitors from abroad. Most people would imagine the King's palace to be huge and luxuriously decorated, but Bhubing Palace is different. Each building has been built in different styles yet all are simple, harmonizing with the surrounding natural environment.